Rama Education & Welfare Society
In 2017, Rama Education & Welfare Society was established with an aim to cater to the need of quality education in and around Chhatarpur (M.P).
The foundation of Edify School was conceptualized as a solution to the educational needs of the students of the area. The absence of good schools resulted in students migrating to other cities, thereby depleting the area's talent pool. Moreover, the chances of academically falling behind increased due to a lack of a strong foundation. This proved detrimental to their future educational opportunities.
Aware of the challenges faced by students, the management of Edify School, Chhatarpur came up with the idea of a new-age school equipped with the latest educational technologies and modern amenities. The infrastructure of the school has been designed to ensure holistic development of its students.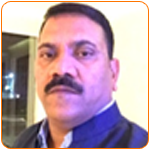 Mr. Dharmendra Singh Verma
Chairman
A well established business man of Chhatarpur whose involvement in manufacturing and Exporting Various Handicraft's Item's ,Granite, Pyrophllite Stone for Carving , Minerals & Powder in India and Abroad from early 90's, by designing innovative stone handicrafts for daily use and importing the same to Abroad has made him a popular brand in Chhatarpur.
As a part of his dream project Mr.Dharmendra has started this Edify school to uplift the Education System with International Teaching standards in Chhatarpur.
Smt. Kalpana Verma
Director